Interview with Managing Director Philipp
Together with Christina Lang, Philipp Möser has been Managing Director at DigitalService since October 2020. Previously, he founded the games company Wooga, building it up over 10 years. In his free time, Philipp is out there kitesurfing, hiking or exploring Berlin's restaurant scene.
Philipp, you have been Managing Director of DigitalService since October 2020. How were you so persuaded by the idea that you gave up your time-out after the sale of Wooga?
The answer has myriads of levels! I think the mission of promoting digital services at the societal level is incredibly important. It is absolutely crucial for the state to offer its citizens well-functioning products. I believe that good basic digital services are needed to restore trust and confidence in state services.
At a personal level, politics has always interested me, and I found the combination of politics and software development especially exciting. DigitalService was looking for a person with experience in building software development teams. Through the founding of Wooga, I gained experience in how to quickly and sustainably set up corporate structures that also work when they are scaled. All in all, the perfect job.
What is your role as Managing Director?
DigitalService has two operational fields: programs and product teams, which are assigned the task of permanent software development. I am in charge of the areas of development, design, product and human resources. It is my responsibility to build up these product teams and to nurture development to the implementation stage. Implementation is the common thread running through my work.
What is your mission? What is your value proposition?
I am passionate about our mission: to develop digital solutions with the public administration that focus on the needs of citizens and work better for everyone. By digital solutions, we mean real software products. WITH the public administration means: we really see ourselves as partners here. We are responsible for the content and methodology of our tasks and the projects we tackle. We are relatively uncompromising when it comes to the kind of projects we really do. We ask ourselves questions: Why is this needed? What do the users want? Is this really the best way to find the solution? We are actively involved in the vision and strategy behind the products we develop.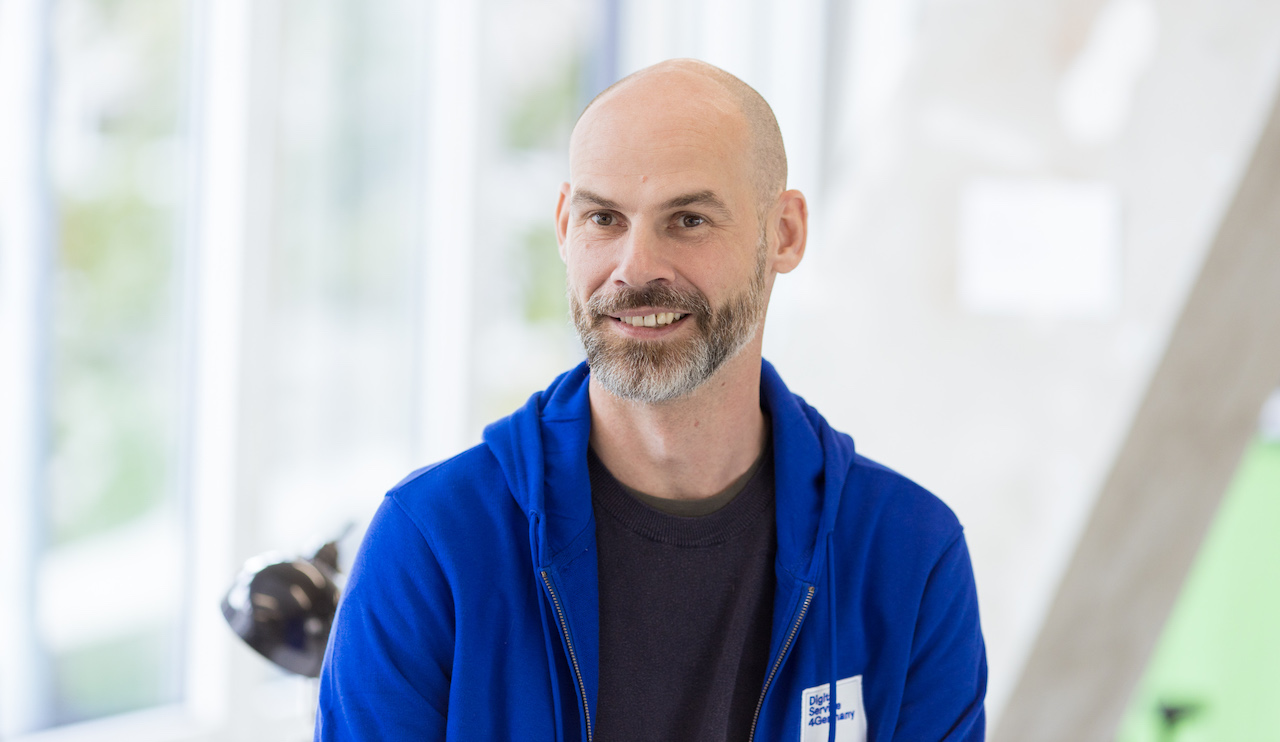 What new facets do you contribute to the public administration?
Traditionally, the public administration very quickly thinks in the direction of finding solutions. Specifications are very particular about what exactly should be implemented and how. From my point of view, software development succeeds by giving an autonomous team a problem to solve. The team then tackles the problem, working step by step. In interaction with the users, the solution then emerges through an iterative process of feedback and learning. The team needs autonomy in the process to determine which solution offers the best approach to solving the respective problem. We start with the problem itself and then advance toward the best possible solution in an iterative manner. We also own this methodological approach when working with the public administration.
Design plays an essential role in all this…
Yes. If only by transporting and conveying the way designers think and work into the public administration, I believe it creates real added value.
How in your view does your corporate culture contrast with the culture of the public administration?
We are an agile organization that works along very people-centered lines. People are assigned a lot of responsibility with us, including giving them latitude to make their own decisions. My experience is that people are motivated by three things: autonomy, mastery and purpose. We try to mould our organization accordingly. That is also a bit of the start-up idea: people should have the opportunity to shape their work as autonomously as possible, to develop themselves, to learn new things and to have an impact. The public administration thinks differently. Of course, there are many people there who are incredibly motivated. But structurally speaking, the administration is process-driven. In our unit, people have a specific function and a specific task to fulfill that is clearly spelled out. For example: You have to proceed through a certain form step by step. It's not about mastery or purpose or autonomy. The questions I have raised are not (yet) embedded in the bureaucracy's DNA.
How do you help the administration offer a better digital service and create added value for citizens?
I proceed pretty strongly from the result in my thinking. If we look at the Steuerlotse (tax navigator) project, for example: This is a website where pensioners can submit their tax returns. It is relatively simple. From my point of view, it's simpler than anything the administration has offered so far. Our selection criteria are very highly driven by the impact we can achieve. We want to develop products that really make interaction between citizens and the administration easier. We are working on incredibly exciting things with this aim…
Right now we are working on electronic identity. How do I demonstrate my identity? If there is one thing a state should provide, it is identity. Why has this been used so little so far? Every identity card is now online-capable. The built-in electronic chip allows it to be used for electronic identification purposes. But hardly anyone uses it for this at the moment. And when you do use it, it is very tedious and no fun. Our aim is to improve this.
Another exciting project is the legal information portal NeuRIS. The objective here is to pool all of Germany's legal information on one platform and make it available to the public. This involves the important issue of open data. The basic idea is this: data that belongs to the state and thus to its citizens, i.e. to all of us, should really be open to everyone. Core government data includes laws, judgements and ordinances. Currently, this information is publicly available, but it cannot yet be accessed in any central place. We want to change this. We want to put this data in an interface so that citizens, NGOs and start-ups are comprehensively informed and can for instance use this data to create something.
What values does your organization stand for?
Transparency and openness are our core values. We are transparent internally and externally. Our philosophy goes like this: you get all the information from us, except for the information for which there is an explicit reason why you should not get it. People need information to make good decisions and to work well. We want everything we publish to be open source. Integrity is as important to us as consistency in project and staff selection. We are an organization that also practices a certain modesty. Show, don't tell: we want to convince and persuade people with our results and be measured by them.
How would you describe the spirit at DigitalService?
I enjoy working here incredibly. Our team culture is very positive. We work a lot and enjoy supporting each other. The whole team is very mission-driven. We think in terms of opportunities. We set ourselves big goals and try to break new ground and question the status quo. When problems crop up, we help each other. And very importantly, we respect each other in our respective roles and appreciate the value of different perspectives and competencies.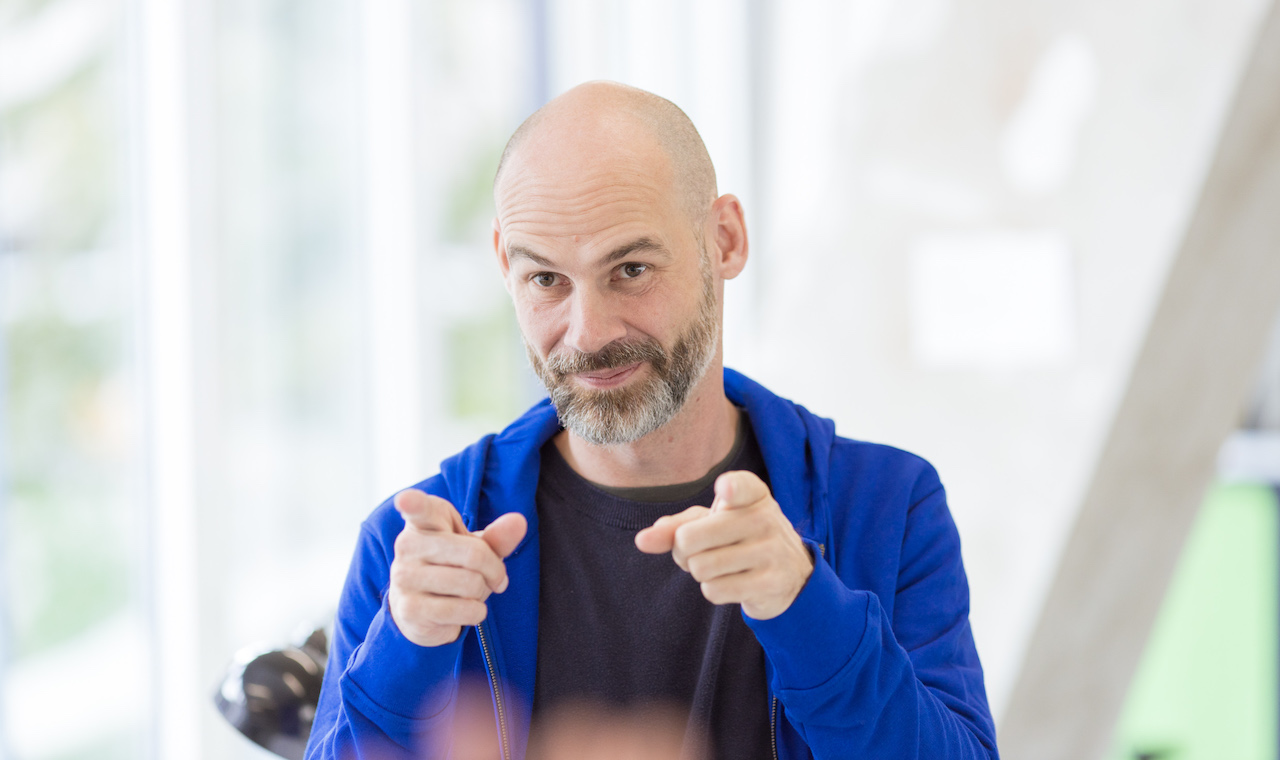 What would you have liked to know earlier?
The biggest challenge is processes. And they are sometimes even more complex than I thought. Even if I was aware from the very beginning that something was complex, it turns out to be even more complex.
But I don't know if I could have done much with this knowledge even if someone had told me beforehand. One thing I definitely would have liked to have known about earlier: there's a pandemic coming our way.
What characterizes a learning organization? Or to put it another way: how do new elements find their way into your organization?
There are actually a lot of little things. It starts with recruiting people who complement our skill sets, who contribute abilities and perspectives that we do not yet have. This also includes regular formats for an exchange of knowledge internally. Another key element here is an open culture of mistakes, which is very important to us internally.
Keyword: culture embracing mistakes. How do you deal with mistakes at DigitalService?
I come from a game company. Out of around 20 games we developed, approximately 19 failed. That wasn't always easy. But we view failure to be a learning experience. That is still very crucial to me in our internal dealings at DigitalService. We can learn from mistakes and develop further.
What did you want to be when you were a child?
There were people at the airport who rode around the tarmac on bicycles, I thought that was so cool, I wanted to do that, too. Later, when I was a bit older, I wanted to be an astronaut. Actually, I would still like to…
You didn't become an astronaut at first, but studied industrial engineering at the University of Karlsruhe and spent some time in Barcelona on the Erasmus programme…
Karlsruhe was a great city to study in. For the first 2 years, I was actively involved in shaping university politics almost full-time through committee work. I wanted to get things moving. For me, design is always also implementation: strategy is delivery. For example, I had an incredible amount of fun organizing 30 buses from Karlsruhe for a demonstration, which were all full and winded their way in a convoy to Bonn so that people could demonstrate there. Or university festivals we organized for 10,000 people…
What happened after graduation?
Towards the end of my studies, I did an internship at Jamba in Berlin. The company then asked me to stay on, so I didn't get my degree until seven years later. That was a good thing, because I wanted to go to Berlin anyway. After I had experienced that big city feeling in Barcelona, I somehow didn't feel comfortable in Karlsruhe any more. I wanted to go to the big sprawling city.
You moved to Berlin in 2001. Tell me, what was Berlin like back then?
The start-up world didn't exist yet, of course. Jamba was one of the first organizations to help put the whole wheel in motion. It was also still a time of watershed changes. There were lots of underground parties in cellars and condemned buildings or techno parties in catacombs and breweries.
Oh yeah, those were heady days… How do you recall your time at Jamba?
When I joined Jamba, there were 60 to 70 people working there. Three years later, there were 800. I quickly had responsibility for a team of 80 people. Which was of course too much and too fast for the experience I had. It was hyper-scaling to the max. It was a collective learning and growth trajectory for all of us. I was responsible for technical product management. A sustainable learning culture was not really in the organization's DNA. The whole thing was very delivery and results-driven and designed to scale quickly.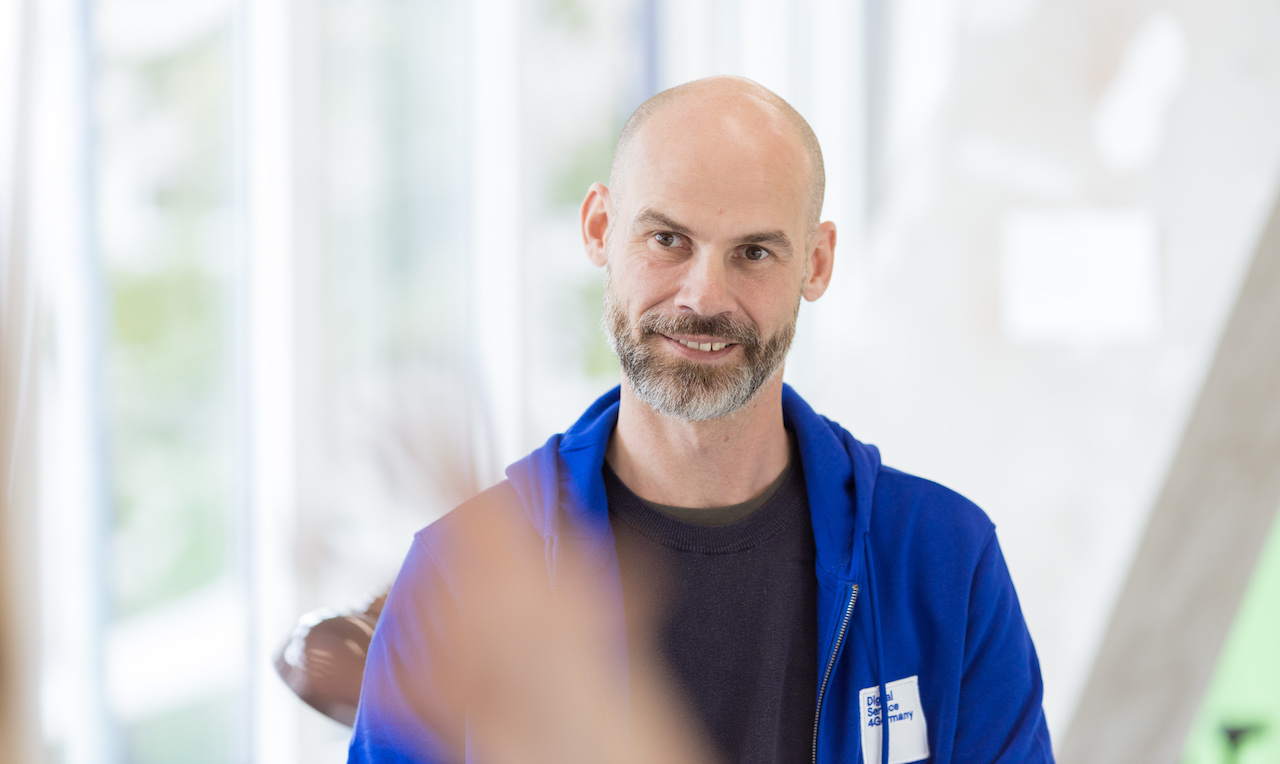 How did you become one of the first employees at Rocket Internet?
I left Jamba to finally write my Diplom thesis. Then Oliver Samwer phoned me: He said he was setting up something new, an incubator for various organizations, and I had to be part of it. And it all sounded so exciting that I thought to myself: the thesis will just have to wait. I accepted the offer.
For the first two years, I helped build Rocket Internet, supervising the tech teams there. But then I realized relatively quickly that consulting is not really my thing. I need closer and deeper identification with the topics I work on. So I actually wrote my thesis on the topic of "Agile Software Development Methods" and am now a Diplom engineer.
Right. There were three founders. 2009: That was back when Facebook was not yet the dominant social network. All the platforms were just opening up for games. We specialized in games on social networks, a huge growth market – and of course that's not completely uninteresting when you start something. The whole thing worked very well and got big and successful quite quickly. With the launch and spread of the iPhone, the whole thing was taken to the next level with App Ecosystems.
When did you realize: it's time to move on?
I think you always have to ask yourself: do I want to carry on with this topic for five years? That is the commitment question for me. If I answer no to that question, then it's clear to me. Wooga has transformed itself from a start-up to Europe's largest games manufacturer. Game development with game design, graphics, producing, etc., is an exciting field and an attractive career option for many. But: I am not a game developer. I am someone who enjoys building organizations and designing organizations. My decision also had to do with the fact that we deliberately sold Wooga, which constrained our entrepreneurial latitude.
Then I took a little break and learned to kitesurf. I went everywhere there was wind. Mainly around the Atlantic, the Canary Islands, Cape Verde, Morocco, Brazil…
What is your best advice?
All of life is a very agile, iterative process. There are rarely simple, clear-cut, quick solutions for problems. You always have to approach problems iteratively, circling around them slowly and solving them step by step. This also applies to personal development. This is probably my most important insight into life and work so far.