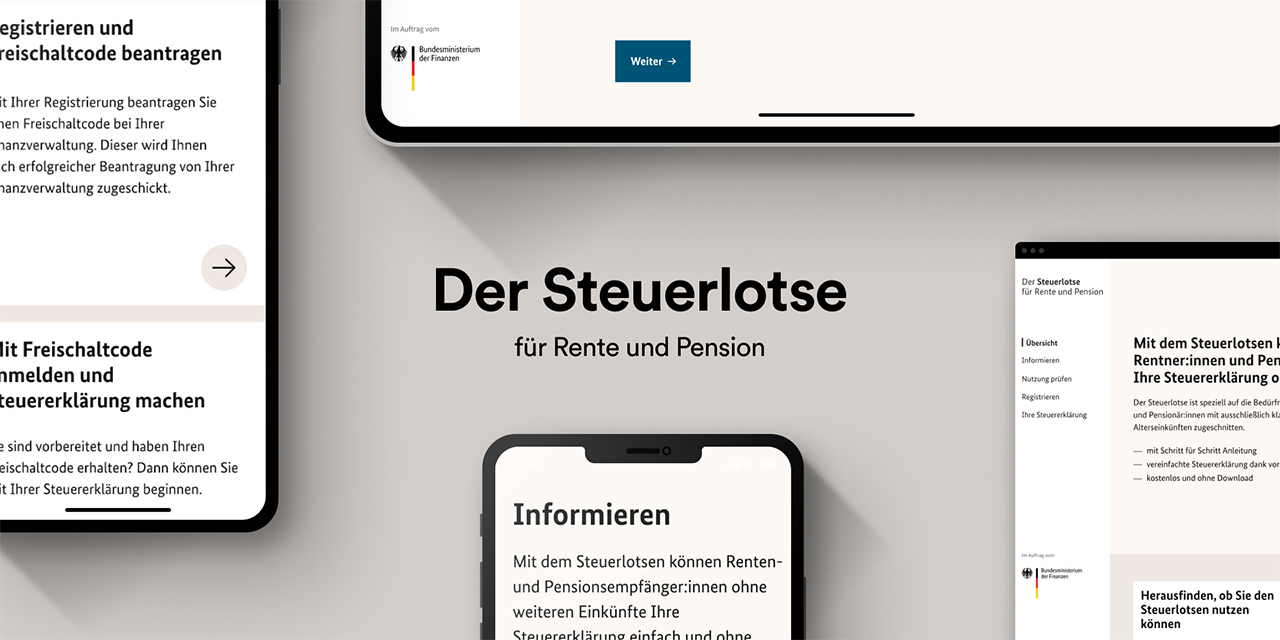 Steuerlotse: Online tax return for pensioners and retirees
One of our first projects has been live since May 2021: Steuerlotse. Thanks to Steuerlotse, pensioners and retirees without any additional income can now file their tax returns online. It is a web-based service that does not require any installation and enables the target group to file their tax returns easily, speedily, digitally and online. The tax guide is available to pensioners and retirees to support them in filing their 2020 tax return at www.steuerlotse-rente.de.
Steuerlotse was developed upon the commission of the German Federal Ministry of Finance by us, DigitalService, the in-house software development unit of the German Federal Government. Based on feedback from users, we are improving Steuerlotse on a continuous basis.
From Tech4Germany prototype to implementation by DigitalService
As far back as in 2019, four of the German Länder (Brandenburg, Bremen, Mecklenburg-Western Pomerania and Saxony) had already developed a streamlined paper tax return (EZVA) for retirees. Taking this paper form as a basis, a digital prototype was then developed by four fellows in collaboration with the Federal Ministry of Finance in the course of our Tech4Germany fellowship 2020. A prototype is a simplified version of a final product that reveals the advantages and areas of application for a product.
The fellowship had confirmed a need for this solution and had met with a positive response from the target group. In December 2020, DigitalService was commissioned to further develop the prototype into a fully comprehensive Steuerlotse product that could prove its mettle in actual practice.
During the further development work, the focus was placed on facilitating productive operation of the service. User tests were once again performed to refine the design, but this time with the focus being placed on the usability of specific elements and overall mesh of processes. The technical foundations laid in the fellowship needed to be expanded, especially in the area of infrastructure, in order to make permanent live operation possible. The software is operated in the cloud, for which we found a suitable service provider in Berlin that could provide watertight security and data protection. Our work was also cut out for us in the area of operations; in contrast to prototypical solutions, an online service needs security, data protection and operational concepts as well as an entire slate of precautions.
Steuerlotse is tailored to a target group that has traditionally made little use of digital services due to their complexity. Developing a customized product for a target group that incorporates their needs, knowledge and capabilities, hence facilitating their digital participation, fits like a glove with our mission of developing digital products that work better for everyone.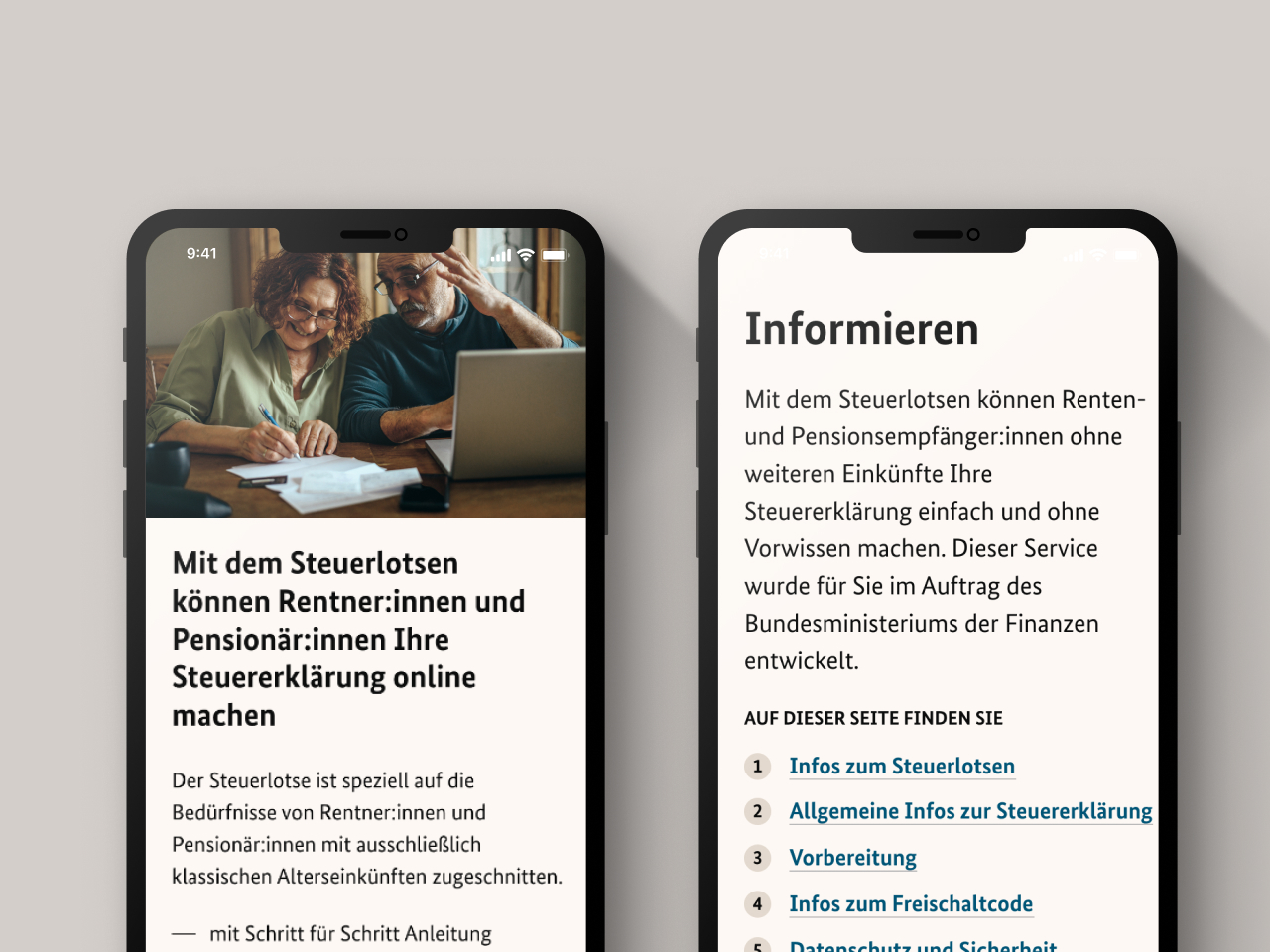 Reduced complexity by tailoring to specific target group. For this purpose, findings from over 50 hours of interviews with the target group were obtained and integrated into the product development.
A product adapted to the needs of users
In discussions with potential users, we pinpointed the biggest challenges the target group faces with existing options. These include fear of making mistakes, lack of information, digital insecurity and the authentication process. These challenges crop up not only when people fill in the form, but also when it is prepared. It is with this in mind that Steuerlotse was focused on four phases of action: introduction, support, authentication, and filling out the form. In terms of its conception, it aims to ensure that users do not get frustrated and doubt their ability to perform the task. To this end, we attached particular importance to the following aspects in the development of Steuerlotse:
User-centered
We developed Steuerlotse for a specific target group working together with this specific target group. We gained insight from all in all more than 50 hours of interviews. In initial discussions with users, we were able to narrow down the problem. During the development of the product, we conducted monthly test rounds with users in order to optimally gear the usability of Steuerlotse to the needs, knowledge and abilities of users. Our understanding of how the site and its navigation need to be structured in order to ensure pensioners are readily able to use it based on their previous knowledge was augmented by findings and lessons learned from the test rounds.
Ease of use
Our goal is to design Steuerlotse in such a way that users will not become frustrated or doubt their abilities while using it. In the conception of Steuerlotse this meant for us that we needed to fundamentally question known assumptions, habits or page elements and to adapt them to the usage behavior of the target group.
The reach-out, text hierarchy and routine, for example, play a particularly important role for this target group. The design of the interface is therefore heavily based on the printed word and differs from standardized websites.
The main navigation of Steuerlotse is not called the "menu", for example, but rather "content", and the starting page is termed "overview". Nor is it designed to fold out at the top edge of the website, and is instead placed on the left-hand edge of the screen. It serves as a guide throughout the entire process.
Users are steered through the process step by step, while information is kept at a minimum to make sure they are not dazed and overwhelmed by multiple interactive options.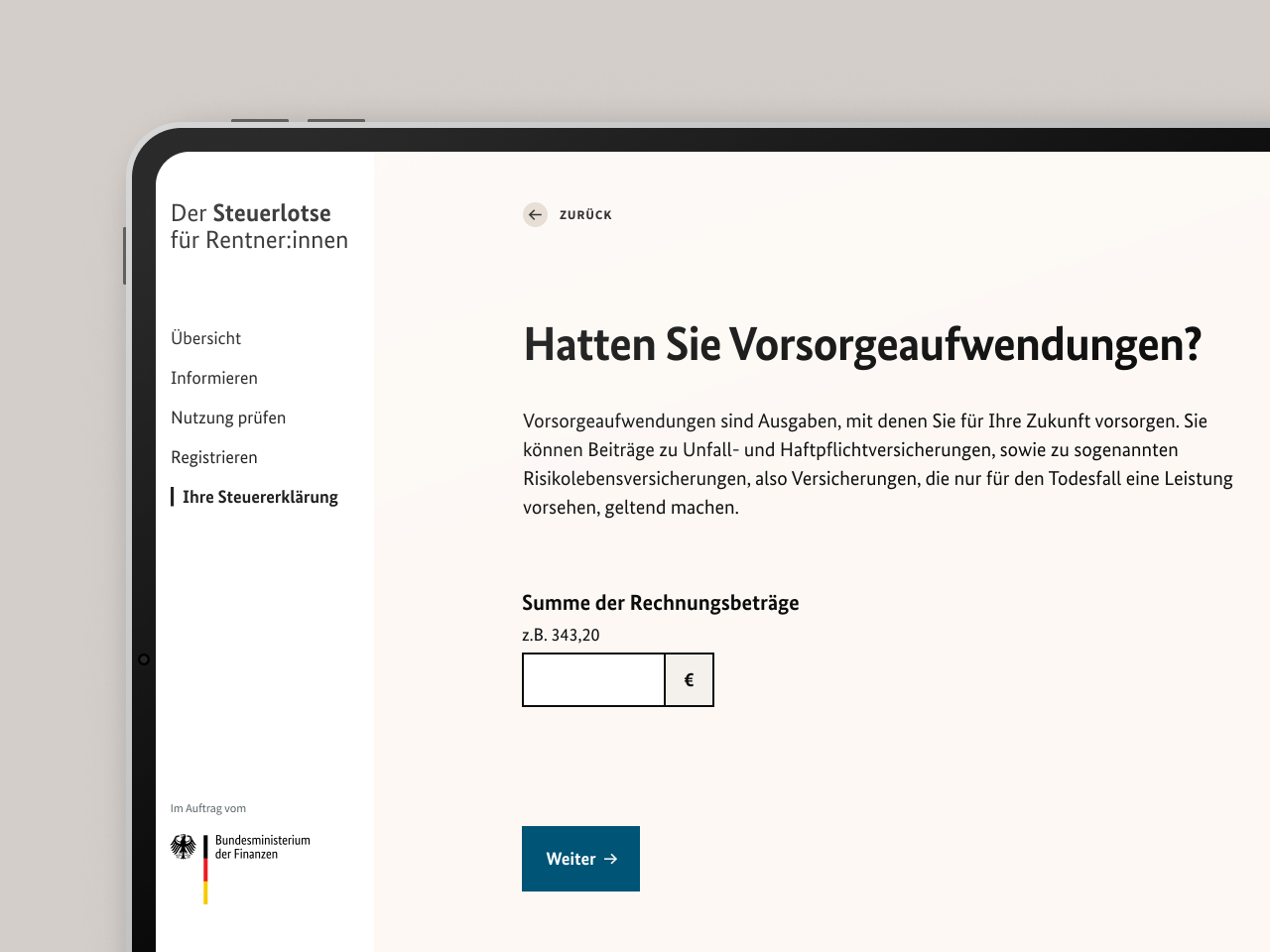 Reducing existing functions and input fields to the bare essentials also helps ensure that Steuerlotse is easy to use.
Focus on the bare essentials
Reducing existing functions and input fields to the absolute basics also boosts Steuerlotse's ease of use. The highly localized target group of pensioners and retirees who do not earn any additional income makes a host of input fields in other existing services unnecessary. Steuerlotse replicates the requirements of the EZVA paper form (the return used for the assessment of retirement income).
The website's functions have also been reduced to the bare necessities. For example, with simplicity as our guiding beacon, we dispensed with a user account in the first version of Steuerlotse. In the further tweaking of the site going forward, we will be developing and adding additional functions based on feedback from users to generate a very tangible added value to the process of filing tax returns.
Connection to existing solution
Steuerlotse uses the ELSTER interface "ERiC" (ELSTER Rich Client) to transmit data. We are glad that we are able to build on the ELSTER ecosystem, as it allows us to offer new users systems that are already in use as well as a solid and secure infrastructure. Steuerlotse combines ELSTER's reliable and secure digital infrastructure with insights from those experts who already were able to appeal the target group in the past with the EZVA paper form.
Data security and minimization
Steuerlotse only requests data when it is really needed and only saves it when this is required by law. Data is always sent and stored in encrypted form and, wherever possible, hashed. Steuerlotse only transmits data to the fiscal authorities. Personal data is only forwarded by us – it is never processed for other purposes.
Open source
The Steuerlotse source code is published on GitHub.
Further development based on user needs
Steuerlotse has been a fully-fledged functional product since 31 May 2021, supporting a minimum functional scope in meeting its purpose. This allows the service to quickly offer benefits to citizens. In the coming months, we will continue to accumulate feedback, gaining traction from it to further develop the solution. If you have any feedback on Steuerlotse, don't hesitate to send an email to kontakt@steuerlotse-rente.de.
Links