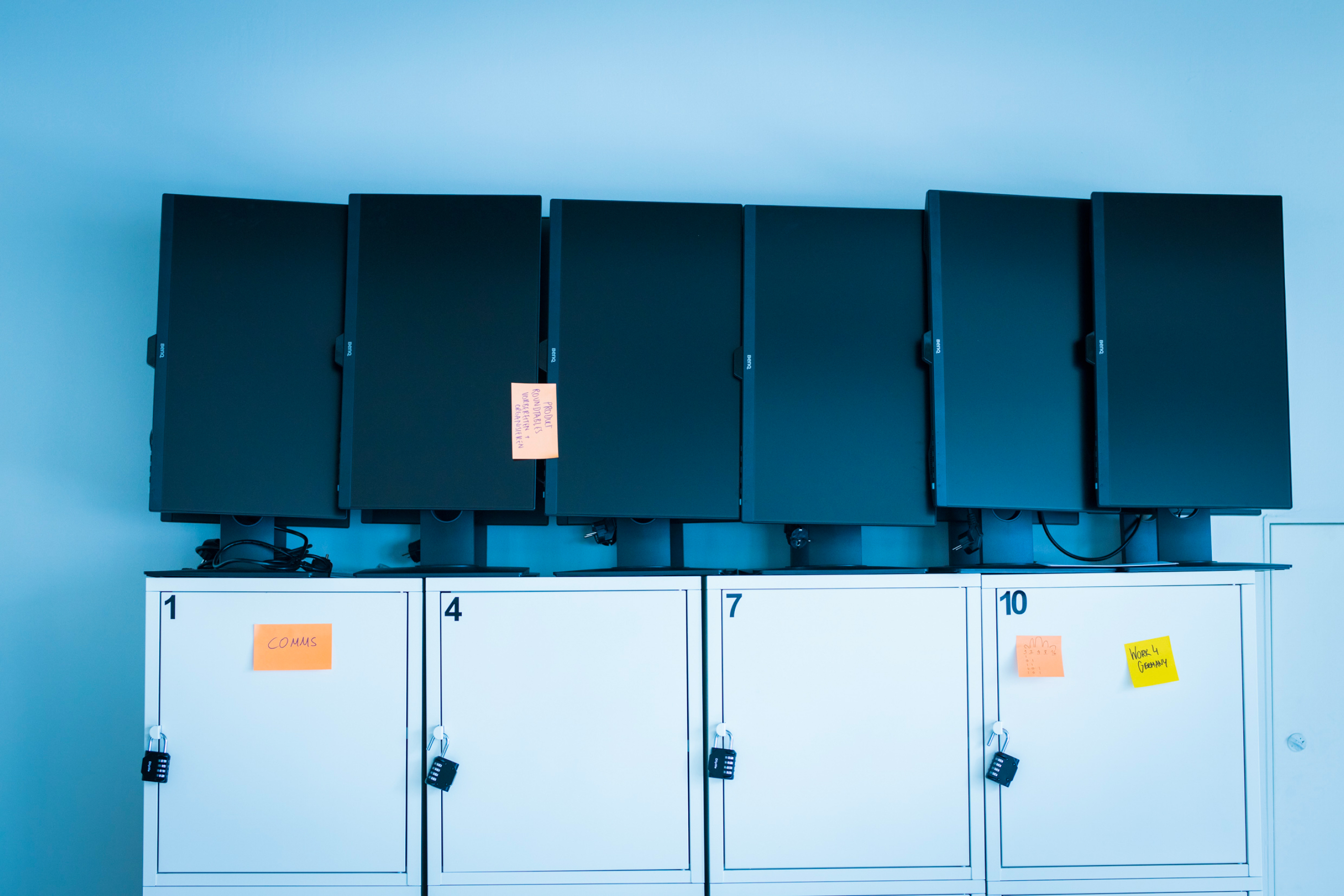 Convincing people through implementation: The strategic thrust for DigitalService for 2022 and beyond
We have a clear vision: we are working for a digital Germany.
But how can we succeed in making this vision a reality? What contribution can we make as DigitalService? What should we focus on to have the greatest impact? And, no less important, where should we not get involved?
At the end of 2021, we wrestled intensively with precisely these questions – with the many lessons learnt from our first year as a federal GmbH (limited liability company). On this basis, we then spelled out our strategic thrust as DigitalService for 2022 and beyond. In this blog, we would like to make our aims and objectives transparent. The complete text of the strategy can be downloaded here (German only).
Vision
We are convinced that the state finally has to meet the expectations of citizens, business and society in the guise of simple, comprehensible and properly functioning digital applications.
The rapid pace of technological development and the possibilities offered by digitalization are fundamentally changing how people organize and interact in private, economic and social life. We want to advance the resulting paradigm shift that is needed for this from an analogue to a digital state "by design" that goes above and beyond pure e-government.
As a central digitalization unit within the Federal Government of Germany, we aim to bring agile software development and user-centered working methods to the public administration and establish these as the standard there. We develop digital applications in an agile manner and promote competence-building in the administration through fellowship programmes. We focus resolutely on implementation.
Mission
"We build digital government services that are citizen-oriented and work better for everyone."
While it is true that the mission statement we wrote down at the very outset remains virtually unchanged, in the first year we have learnt that agile approaches in software development constitute a paradigm shift for the public administration. Its structures, processes and project logics are not yet adapted to this. There needs to be a fundamental shift in thinking: from pre-planned large-scale projects that are implemented strictly in stages over a period of years, to applications developed in an agile, user-centered and data-driven manner that go live early and already deliver added value while they are still being continuously developed as a service.
Our role in 2022 and beyond
We want to contribute to aligning strategic IT efforts and administrative digitalization in Germany with the target image of a digital state. This is an ambitious, long-term undertaking. In order to be able to contribute to systemic change, we will be focusing on three goals over the next 18 to 24 months:
Goal No. 1: We successfully develop strategically relevant digital applications of the state ourselves.
With our teams and products, we are demonstrating that the state can quickly develop and sustainably offer digital solutions that are consistently designed with its citizens, business and society in mind. To this end, we develop digital applications together with the offices in charge for the federal administration that focus on the needs of users and work in a perceivably better way for everyone. We reconcile user acceptance with the requirements of security, data protection and accessibility – without making one-sided compromises at the expense of usability. The most important aspects are as follows:
We focus our resources on applications that reach a wide range of citizens, businesses and other social actors and which solve concrete problems.
We tailor the projects so that we can put a minimum viable product (MVP) into production in a short time in order to confront applications with reality as quickly as possible and minimize the risk of undesirable developments.
We take responsibility for the success of our digital products and work together with the specialists in charge as equals in an interdisciplinary team. This team independently guides prioritization in the implementation, management of the project budget and the coordination of technical requirements.
We work in a data-driven and impact-oriented way: for each application, we specify metrics to measure usage and satisfaction.
We develop applications with the claim to further develop them after their launch with the constant involvement of users. We also discontinue applications that do not achieve the planned effect.
We independently analyze progress and barriers in the way of a digital state while identifying potential for meaningful product developments from the perspective of citizens.
What we don't do:
Carry out advisory or research projects without a specific responsibility for implementation.
Implement purely internal digitalization projects. In our applications, we do also take into account public administrators as users, however.
Goal No. 2: We strengthen the federal administration's digitalization-makers in the agile, user-centered implementation of their projects.
A sovereign digital administration needs digitally competent employees. We can only be successful working together with the contribution of administrative and technical expertise from the public administration. With the Tech4Germany and Work4Germany fellowship programmes, we are therefore encouraging digitalization-makers in the administration to implement their projects in an agile and user-centered manner. We promote the development of the competences needed for a digital state in a manner geared towards the field of practice.
Through the fellowships, we contribute in a very practical way to building the necessary skill sets and competencies. We ensure sustainability and scalability through interdepartmental networking.
We always link the implementation and support of projects with empowerment of the administrative staff. We do not advise as outsiders, but rather support from within and train people further through "learning by doing".
We support the development of skills and competences through the application of new ways of working in one's own working environment with application-oriented formats for further training tailored to the specific environment.
We ensure a cross-sectoral exchange of knowledge and the strengthening of implementation competence: fellows and experienced management profiles work together in public administration for a limited period of time.
We drive cultural change and competence-building in the federal administration by providing a confidential basis for those responsible for digitalization to carry out an exchange and learn from each other. To this end, we cooperate with overarching networks such as NExT-Netz e.V..
We are intensifying the development of partnerships (e.g. Digitalakademie, e-Government Campus, FITKO, NExT network, GovTech Campus) in order to scale competence-building.
What we don't do:
Offer classic continuing education courses, training and certification.
Provide organizational or process guidance outside of the fellowships.
Expand the fellowship programmes themselves to the Länder and local levels.
Duplicate existing initiatives. Wherever we can, we cooperate with other actors (such as those mentioned above) to avoid duplication of structures and parallel work.
Goal No. 3: We drive the paradigm shift towards agile, user-centered, data-driven software development across the board.
An agile and user-centered digital administration requires a structural rethinking of IT and digitalization. We practice this rethinking transparently, but also promote and call for it. We always keep the empowerment of administrative employees in mind.
Digital applications developed by us which function properly and find acceptance help us to convince people that agile, user-centered, open and data-driven software development also delivers perceivably better results in the German administrative context. We are actively working towards a sustainable improvement in framework conditions and mindsets for a digital state.
We understand code and work results as public goods and make them available openly and in re-usable form to the greatest extent possible ("Public Money, Public Code").
We rely on technical components and standards that are widely accepted and used in administration and industry.
We contribute to harmonizing and increasing the efficiency of administrative digitalization by providing reusable software development components, design systems and process models (open source).
We share our work publicly and transparently to enable dialogue and collaboration in the public administration and with digital civil society ("working in the open").
We prepare our findings and bring our implementation expertise to bear when standards are set and strategic portfolio decisions are made.
We work with measurable goals and effectiveness criteria for data-driven control and monitoring of success.
We see ourselves as a real laboratory and learning engine for administrative digitalization and want to discuss challenges strategically in order to find sustainable and scalable solutions.
What we don't do:
Technology-oriented trend scouting (e.g. blockchain, AI, quantum computing). However, we have the know-how to leverage the potential of new technologies, such as AI, for effective, user-centered digitalization of the administration.
Set formal standards. We informally contribute our practical knowledge to bodies and actors with a standardization mandate.
Exercise control over central domains or platforms. We cannot ensure compliance with certain user-centric specifications beyond our products.
Advice on procurement topics. Our focus is on proprietary developments, not on promoting innovation in procurement or cooperation with start-ups.
Framework conditions
In order to achieve these goals, we need clear underlying conditions and certain freedoms. These include:
Early involvement in the development of 3 to 5 strategically relevant digital applications of the new Federal Government. An agile approach requires bringing in product and method expertise in specifying project goals and planning.
Freedom to implement digital projects in an agile manner within the framework of legal requirements. This requires an explicit will and desire on the part of the ordering party to develop applications in an agile and iterative way and a willingness on the part of the management to support this as a possible escalation level.
Involving human resources in the form of one or more specialist administrative staff as an integrated part of the development team.
Responsibility for product operations. Outsourced operations make fast iterations and releases difficult because the complexity of processes increases in tandem with external dependencies.
A modern cloud-based development and operating environment for government solutions (current efforts in the direction of a German public administration cloud appear promising).
Sustainable funding for the fellowship programmes and interdepartmental community work. Central funding makes the programmes accessible to people willing to engage here across the breadth of the federal public administration.
Continuation of the Fellowships as a strategic vehicle to implement cross-departmental modernization measures and promote cultural change in the state towards collaborative, results-oriented cooperation.
The freedom to report on our work even independently of ministerial public relations and political communication. We are expanding our own communication channels to openly share insights, successes and failures.
Our goals are ambitious, but I am very confident that together with the highly committed people we meet in the public administration, we can achieve a lot in the next two years. Not only has our DigitalService team now grown to around 70 employees and is getting bigger every month – at the beginning of the year the ministries directly expressed a great interest in participating in our fellowship programmes. And a willingness to break new ground and think in a user-centered way is growing noticeably.
In addition, many of the principles that are so important to us – agility, citizen-centricity, open source, "Public Money, Public Code", transparent governance – are reflected in the new Federal Government's coalition agreement. These are truly propitious starting conditions.
Disclaimer: This strategic thrust reflects the current state (March 2022) of our experience and insights. We shall regularly question whether what we are building is having the intended impact and expect our strategy to change and adapt in line with our insights.