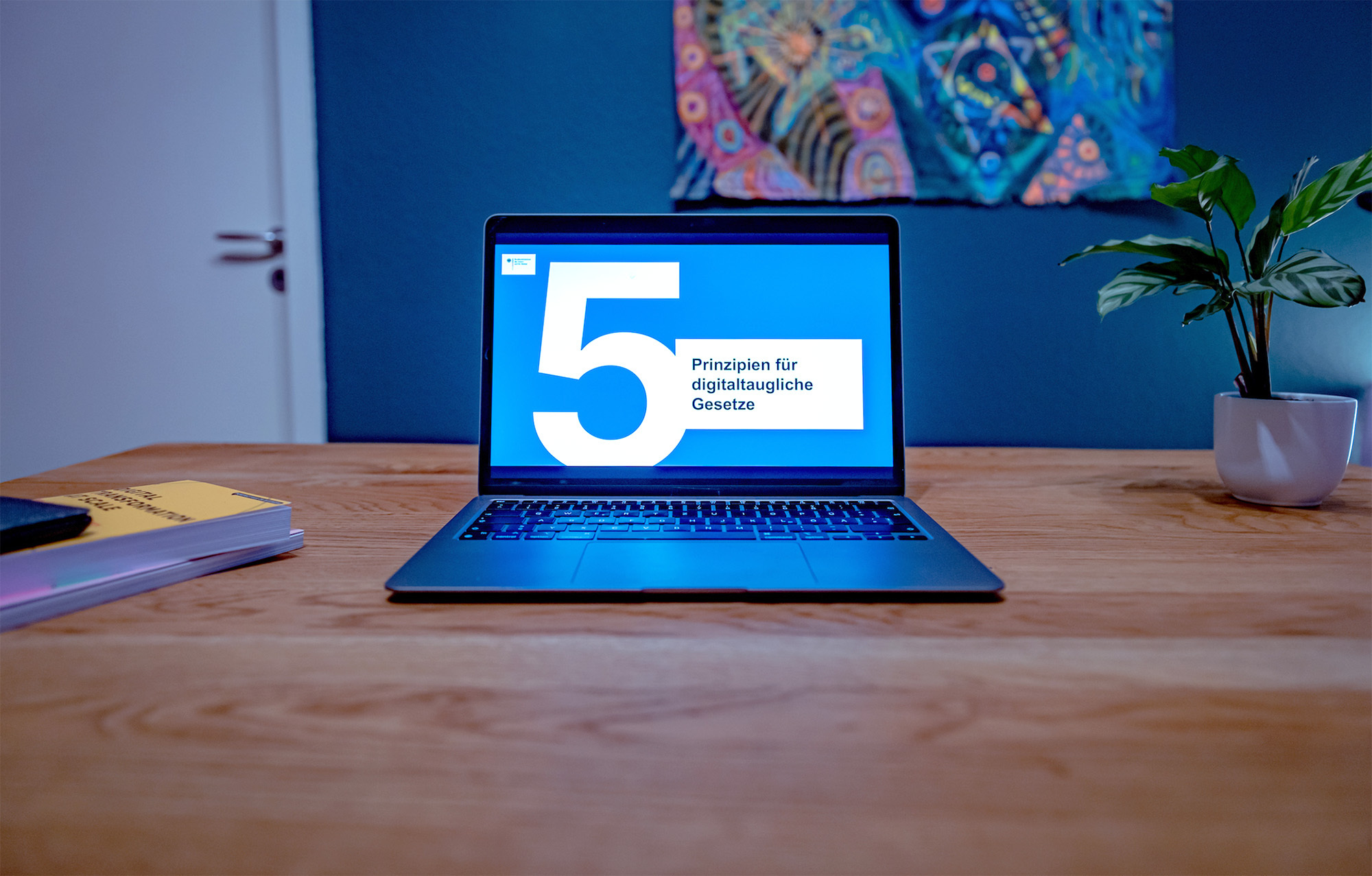 Five principles for digital-ready legislation
The new year marked the beginning of a new phase for Digitalcheck (German only): Since January 2023, the first version of Digitalcheck has been available to policy drafting personnel in the federal ministries who are responsible for drafting new or revising old laws. Digitalcheck helps them to take into account the potential digital implementation of new regulations during the drafting process. This is important, since, for laws to be executed digitally from start to finish, the relevant requirements and options must be identified at an early stage.
Currently, Digitalcheck is a so-called "beta version" and has not been finalised. A specially formed interdepartmental working group, together with the Federal Ministry of the Interior and Community and DigitalService , will continue to develop Digitalcheck in a user-centric and iterative manner. This will be based on data and insights gathered through the practical application of Digitalcheck, as well as on feedback from users.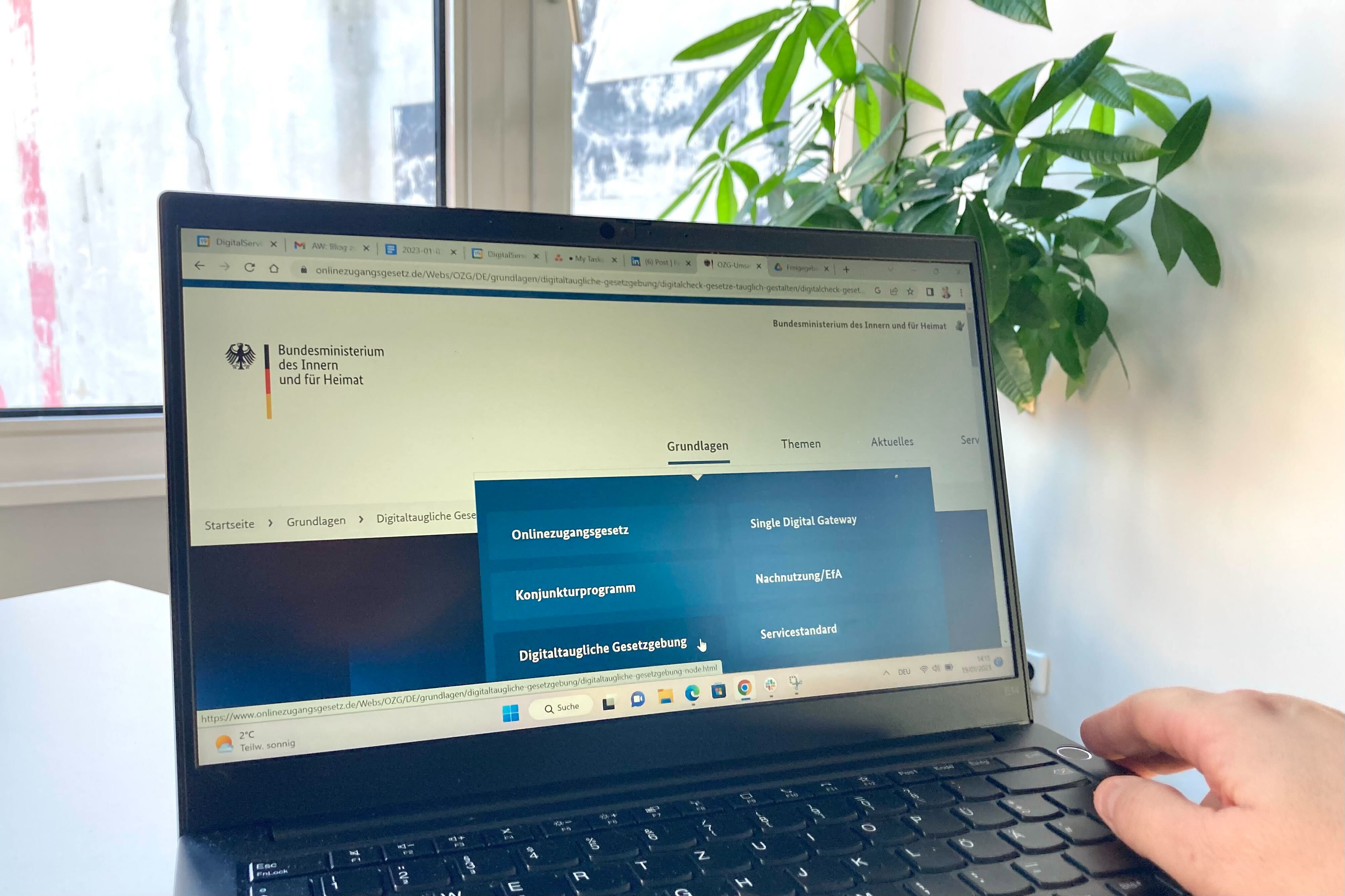 In December 2022, we presented the beta version of Digitalcheck together with the Federal Ministry of the Interior and the National Regulatory Control Council (German only) during a roadshow through 14 ministries. To avoid the need for an onboarding phase with every new version, we developed five principles for digital-ready legislation. In the following, we explain why these principles are important for Digitalcheck, what they help to accomplish and – last but not least – what they actually are.
General information on Digitalcheck and our approach can be found in the first Digitalcheck blog posted last December.
Why do we need principles as an overarching guideline?
The process of making laws and regulations is a lengthy journey: from the original idea to their implementation, they pass through many hands and levels of hierarchy. Moreover, the specific effects of digitalization are often vague, intangible or open to various interpretations.
From the early stages of working on Digitalcheck, it was evident that there are far more than just technical issues to be solved. For instance, there is no common language: Every government authority, office or individual has their own understanding of digital-ready regulations. Not only this: the various actors also have very different levels in terms of their digital skill sets, prior knowledge and mindsets.
This is where principles come into play. Good principles set a clear vision of goals that inspire all those involved in the legislative process and guide them in their daily work. They provide a common and permanent reference point that is always valid no matter what the context.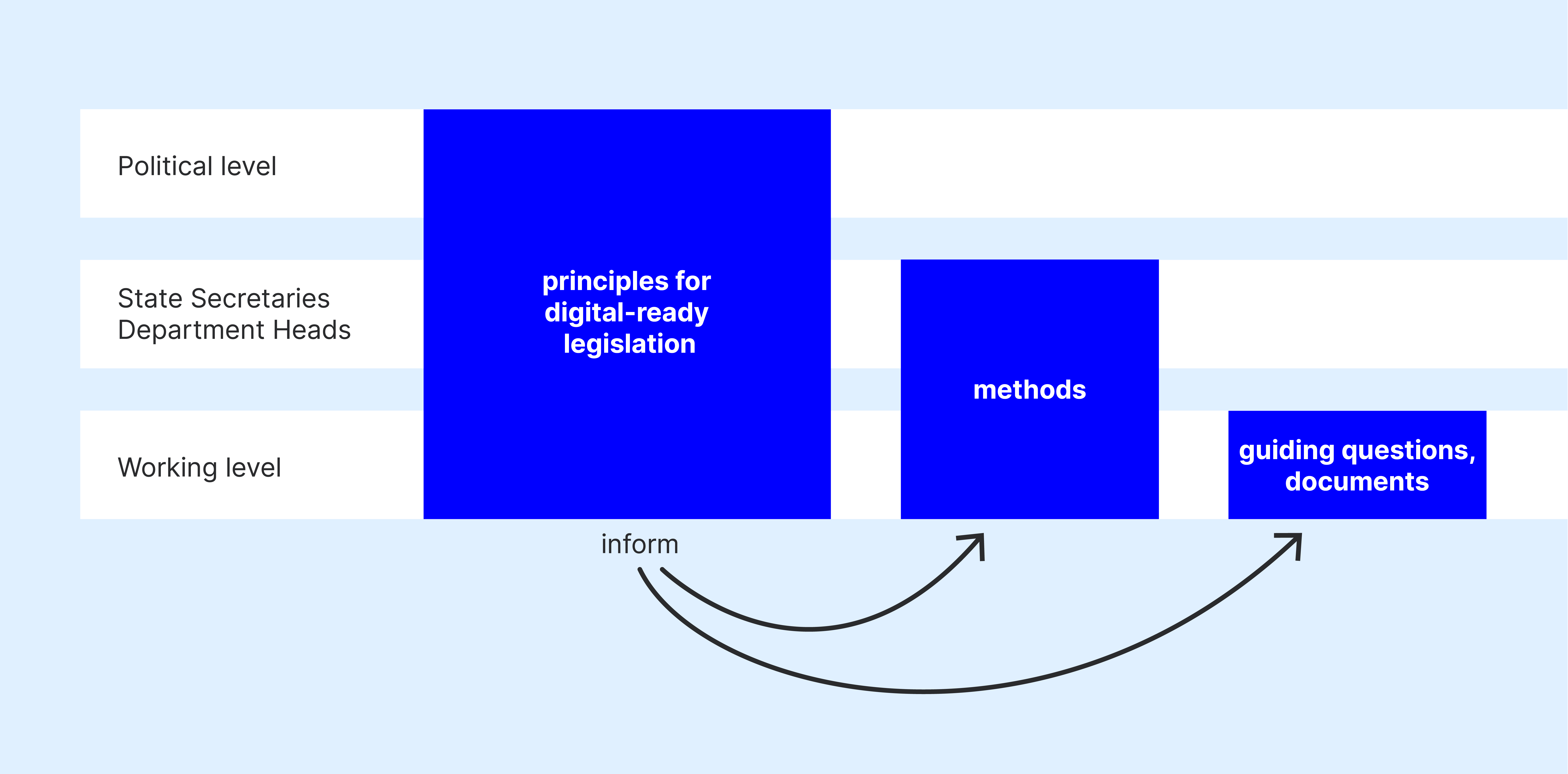 Principles need to be concise and concentrate on the essentials. They focus on the intended impact in order to enable all stakeholders to look beyond their own immediate scope and explore new horizons.
Principles must also be worded clearly and understandably so that everyone - regardless of their hierarchical level – is on the same page, shares the same understanding or can at least set consistent and coherent priorities.
So, principles establish a common language and map a collective vision that people can work towards despite different backgrounds and ways of thinking.
The above figure illustrates what all this means for Digitalcheck. The principles underlying digital-ready regulations create a common language at every hierarchical level of the public administration, all the way up to the political level. Furthermore, they provide the foundation for a common understanding of requirements: both for the Federal Government and for the various actors putting it all into practice – from the federal states (Länder) and municipalities all the way to businesses. In addition to this common understanding, the methods used to draft digital-ready laws as well as the working and documentation materials are also based on these principles. In other words, everyone involved can rely both on a meta-level as well as on a common structure in the detail.
The five principles forming the foundation of Digitalcheck
Working closely with the Federal Ministry of the Interior and the interdepartmental working group, we have established the following five principles for digital-ready legislation. We have developed them in an interdisciplinary team and have been continuously testing them with policy personnel, digitalization experts, and practitioners in the implementation of legislation:
Ensure digital communication
e.g. formulate regulations so they remain "open" to new technologies; avoid media discontinuities and analogue means of verification; take accessibility into account.

Enable re-use of data and standards
e.g. research early on what data is required, what standards exist, and what interfaces are necessary; spell out legal requirements for data exchange and use.

Ensure data privacy and information security
e.g. involve relevant experts, determine protection levels, consider legal requirements, as well as financial and personnel costs of implementation.

Set clear rules for digital implementation
e.g. test the feasibility of implementation with administrations, businesses, organizations, and citizens – all the stakeholders involved in implementation; set out clear criteria and decision-making structures, harmonize legal terms wherever possible.

Enable automation
e.g. create legal conditions that facilitate automated or application-free procedures; involve experts on digital scaling at an early stage.
In the beta version of Digitalcheck, these principles are the bedrock for drafting digital-ready laws and serve as guidance throughout the entire legislative process. They inspire stakeholders during the ideation phase and provide orientation when formulating laws and regulations. Moreover, they offer guidance for reviewing draft legislation and are accepted by the implementation level. Or, as one IT architect at a federal agency put it in one of our user-tests: "If these principles are applied [...] I can work really well!"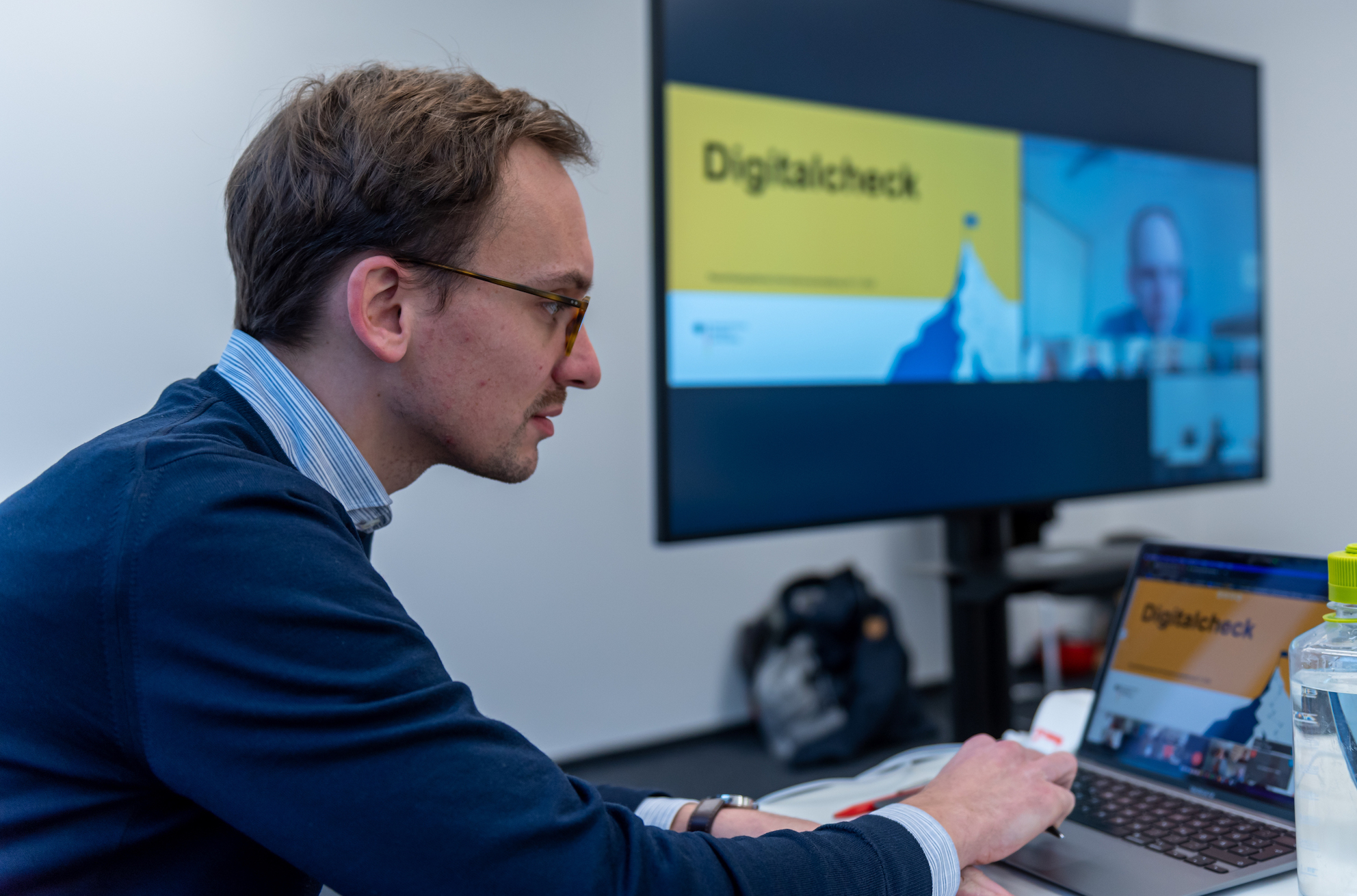 Stay tuned for more on the ongoing iterative development of Digitalcheck in our next blog post!
The current beta version of Digitalcheck is just the beginning and will be developed continuously. We will explain why an iterative approach to Digitalcheck is particularly crucial and how exactly this is being done in our next blog post in a few weeks.
Do you work in the field of lawmaking, have feedback to offer, thoughts to contribute or questions? We look forward to hearing from you: digitalcheck@digitalservice.bund.de.